Darts Away
---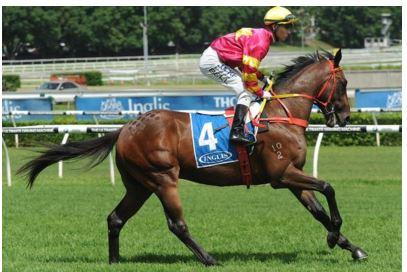 Sire: Onemorenomore
Dam: Daloot
Colour: Bay
Gender: Colt
Age: 6 year old
Foaled: Nov 12th, 2012
Country: Australia
Silks: Cerise, Yellow Star And Hooped Sleeves, Yellow Cap
---
Owners
Mr P H Joseph, Mr M A Webster, Mrs N A Webster, Mr H G Blight, Mrs J Eliades, Mr J D Coates, Mr P J Coates, Mr T D Coates, Miss F M Coates, Mr D J Eales, Mr D Jacobs, Ms A C Markham, Mrs B M Joseph, Mr P A Jones, Mr J A Eliades
---
Career Record: 44-6-2-7
Prizemoney

$167,455.00

Wins

13.6 %

Place

20.5 %
---
Pedigree
DARTS AWAY (AUS)

Bay colt
Foaled in 2012

---

| | | | |
| --- | --- | --- | --- |
| Sire | Red Ransom | Roberto | Hail to Reason |
| ONEMORENOMORE (AUS) | | Arabia | Damascus |
| 2006 | Palia | Last Tycoon | Try My Best |
| | | Kew Gardens | Kenmare |
| Dam | Danehill Dancer | Danehill | Danzig |
| DALOOT (AUS) | | Mira Adonde | Sharpen Up |
| 2005 | Zaloot | Zabeel | Sir Tristram |
| | | Cashier | Danehill |

---

ONEMORENOMORE (AUS) (Bay 2006-Stud 2010). 2 wins at 2, AJC Champagne S., Gr.1. Sire of 101 rnrs, 41 wnrs, inc. SW Onemorezeta (VRC Gucci S., Gr.3), SP Excellent One, Genius, Purcentage, Tonto and of One More Magic, Lady No More, Carmenere, Final Decision, Good Intentions, Maryore, Once Again, Ponugo, Bentles, Explosive One, Baylie Louise, Isn't He a Beauty, Japanese Slipper, More Impact, One More Tequila, One More Two More, Onemoregypsy, etc. His oldest progeny are 3YOs.

1st dam

DALOOT, by Danehill Dancer. Unraced. Three-quarter-sister to Choix de Maia. Dam of two foals, both raced-

Napayshini (g. by Ready's Image). 2 wins at 1200m, 1250m, A$78,225, to 2014-15, ATC Hyland Race Colours H., 2d ATC Warwick Farm 2YO P., TAB Place Multi H.

Darts Away (c. by Onemorenomore). See below.

2nd dam

ZALOOT, by Zabeel. Winner at 1400m, 4th VRC Vanity S., Gr.3. Half-sister to FLYING PEGASUS, Thrillpower. Dam of 5 named foals, 3 to race, inc:-

Choix de Maia (Choisir). 2 wins at 1400m, 1600m in 2014-15, MVRC City Jeep Grand Cherokee H., 3d SAJC Schweppervescence S., Gr.3, MRC Taralye 2YO H.

Galilean Moon. Placed, 2d ATC Randwick Grandstand Finish P.

3rd dam

CASHIER, by Danehill. 2 wins-1 at 2-at 1200m, 1300m, A$140,858, AJC Silver Shadow S., Gr.2, STC Tilecraft 2YO H., 2d ACT RC Black Opal S., Gr.2, AJC Keith Mackay H., L, Minoru 2YO H., 3d NSW Tatt's RC Furious S., Gr.3. Half-sister to Century Waltz. Dam of 11 foals, 10 to race, 9 winners, inc:-

FLYING PEGASUS (Fusaichi Pegasus). 3 wins-2 at 2-to 1200m, US$11,940, A$357,450, AJC Royal Sovereign S., Gr.2, Kindergarten S., Gr.3, Coral Moon 2YO P., 2d AJC Canterbury Guineas, Gr.1, STC Silver Slipper S., Gr.2, 3d STC Todman Slipper Trial S., Gr.2, Hobartville S., Gr.2, Satellite S., L. Sire.

Thrillpower (Encosta de Lago). Winner at 1450m, SAJC Flight Centre P., 3d VRC Fashion S., L, SAJC SATAB Raceday H.

Land Grant. 3 wins to 1500m, A$76,775, in 2014-15, ATC TAB Rewards H.

Belgrave. 2 wins at 1100m, 1400m in NZ and HK, HKJC Merry Merry H.

Paymistress. Winner at 1000m, 3d MRC Ahern's at Highways H. Producer.

Fiscal Wings. 4 wins to 1400m to 2014, Singapore TC Kranji D S., Class 5 H.-twice, 2d Singapore TC Welcome S., Initiation P., Kranji D S., Class 5 H.-twice, 3d Singapore TC Initiation P., Beau Brummel S., Class 5 H.

Hummingbird. Winner at 2 in Aust. Dam of-

Land's End. Winner at 2 in 2014-15, ATC Liverpool City Council 2YO P.

Zaloot. Winner. See above.

Cosimo. Winner at 1200m in Aust.

4th dam

DANCING DOLLAR, by Vain. 2 wins-1 at 2-at 1000m, SAJC Sefton H., Fairfield H., 2d AJC Feminist H., STC Camellia S., 3d City Tatt's RC Archie Punch H. Half-sister to MR JAZZ. Dam of 10 named foals, 8 to race, all winners, inc:-

CASHIER (Danehill). 2 wins. See above.

Century Waltz (Century). 2 wins at 1000m, 1100m, VATC Tolerance H., 2d VATC Wenona Girl H., Stansmore S., 3d VRC Red Roses S., L, VATC Holiday S. Dam of-

Leg Bye. 2 wins at 1200m, 1400m, AJC Veilmond H., Hancock & Associates H., 2d BTC Midweek Groups H. Dam of-

Dismissal (Strategic). 6 wins to 1400m, A$323,240, MRC Shannon H., 1250m-in track record time, Sovereign Red H., STC Wentworthville Leagues Club H., AJC CVD Asian Delights H., 3d MRC Victoria H., Gr.3, VRC Chubb S., L.

Lucky Bo Bo (Quest for Fame). 5 wins at 1400m, 1500m in Macau, Macau Chieftain H., 2d Macau Cup, L, Macau Spring Trophy, L, Absalom H.

D'Orsay. 6 wins-1 at 2-at 1200m, 1400m, AJC Golden Rhapsody H., 2d AJC Sam Hordern H., 3d STC Cammeray WBC H.

Benzoic. 2 wins at 1200m in Malaysia, Penang TC Class 1 H., 2d AJC Dark Marne H., STC Truscotts H., Singapore TC Class 2 H.

Haddria. Unraced. Dam of-

Octangle. Unplaced. Dam of-

WRITTEN UP (Written Tycoon). 4 wins-1 at 2-to 1400m, A$369,565, to 2014-15, Bendigo Guineas, L, Moe RC Strathayr Sprint H., Warrnambool RC Silvan Ridge Futurity Inglis Bonus H., 2d MVRC Chandler Macleod S., Swan Hill JC Elvstroem 2YO Classic, 3d VRC VOBIS Gold Reef S.

Race Record: 5 Starts 0-0-1 A$14,875.

Placed at 2 in 2014-15 in Aust.